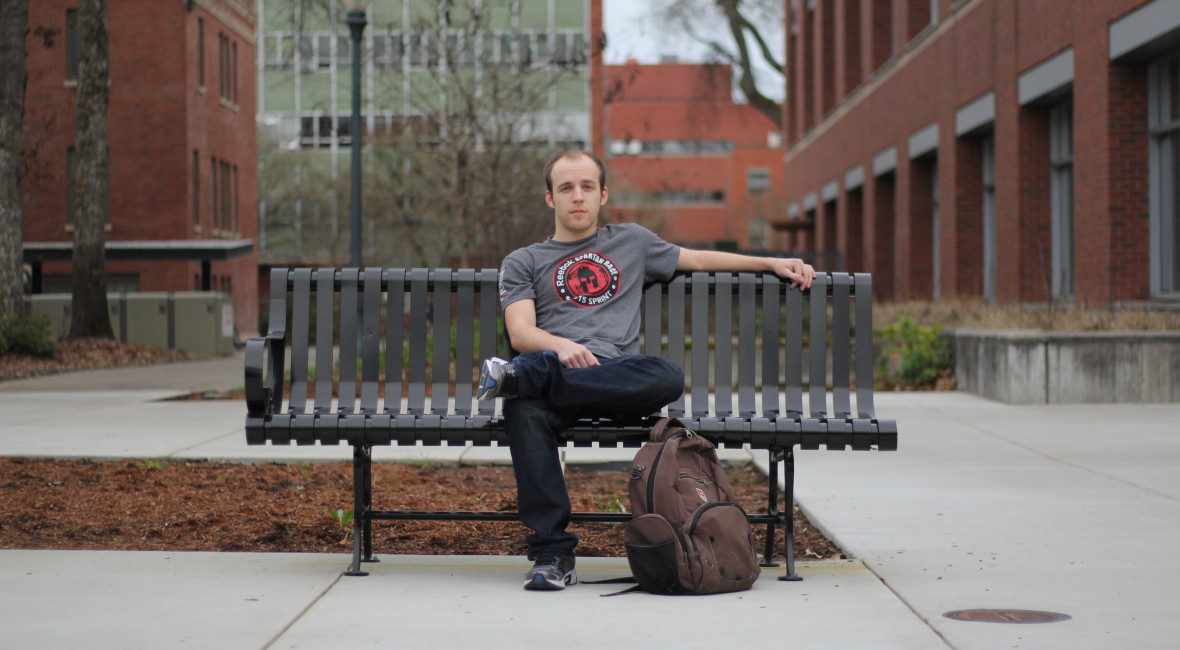 Alex Weron. Photos by William Allison
---
Alex Weron has a pretty uplifting outlook on life. "You should do what makes you happy," he says. "All we have are moments in life."
And he lives true to those words. Weron is a senior at Oregon State University studying Digital Communication Arts, but just because he's a Beaver now doesn't mean he started in the Beaver State. Weron's roots don't spread too far, though; they are deep in the Pacific Northwest. He was born in Richland, Wash. and spent most of his childhood in Sandport, Idaho.
"I loved it up there," he said of Idaho. "Such a beautiful place." However, after six years, his family relocated to the Oregon Coast where his mother and step-father followed their dreams of owning a motel in Yachats. Weron enjoyed the motel life, even working there on the weekends with his brother. He also finished his secondary school on the Oregon Coast, attending the nearby Waldport High School, where he graduated with the class of 2009.
In addition to the fun he had at the hotel and in his high school years, Weron said that he enjoys various forms of exercise and playing video games. All in all, he feels that he had the opportunity to live a privileged life, but certainly doesn't take it for granted.
Following high school, he moved away from the sandy beaches of the Oregon Coast to the Willamette Valley to start college, attending both Linn-Benton Community College and OSU because of the close proximity to his home. However, his easy-going and happy life quickly changed in December 2014.
---

Left: Alex on a normal day at Oregon State University. | Right: Alex looks at a photo of him and his girlfriend who is currently in the Peace Corps.
---
After a few drinks with friends and family at the bowling alley, Weron was pulled over for a traffic violation and cited for Driving Under the Influence of Intoxicants, or DUII, in a car that didn't even belong to him. Not only was this life-altering moment an inconvenience, it's cost him severely. When his license was revoked, Weron was forced to give up his delivery driver position at the Corvallis Pizza Hut and take a dining room position instead, one that doesn't make nearly as much money.
Despite the legal and financial troubles he's faced with the DUII, Weron said he wouldn't change it if given the opportunity. Instead he shared the lessons he learned to make himself a better person. He pointed out that driving is most definitely a privilege and that the whole experience made him who he is today because of the road he was forced to take, continuing to have an optimistic approach.
Looking forward to the future, Weron is set to graduate in fall term, at which point he'll move in with his childhood friend, now girlfriend of two years, when she returns from the Peace Corps in Africa. While she attends graduate school, he hopes to find his dream job, a social media manager for a professional sports team. Weron is also excited to get his license back in March, but for now, he must continue walking the path he's on.
"I walk," he said. "Walk, walk walk."
---

Left: Oregon State University Campus | Right: Alex on his way to class.
---