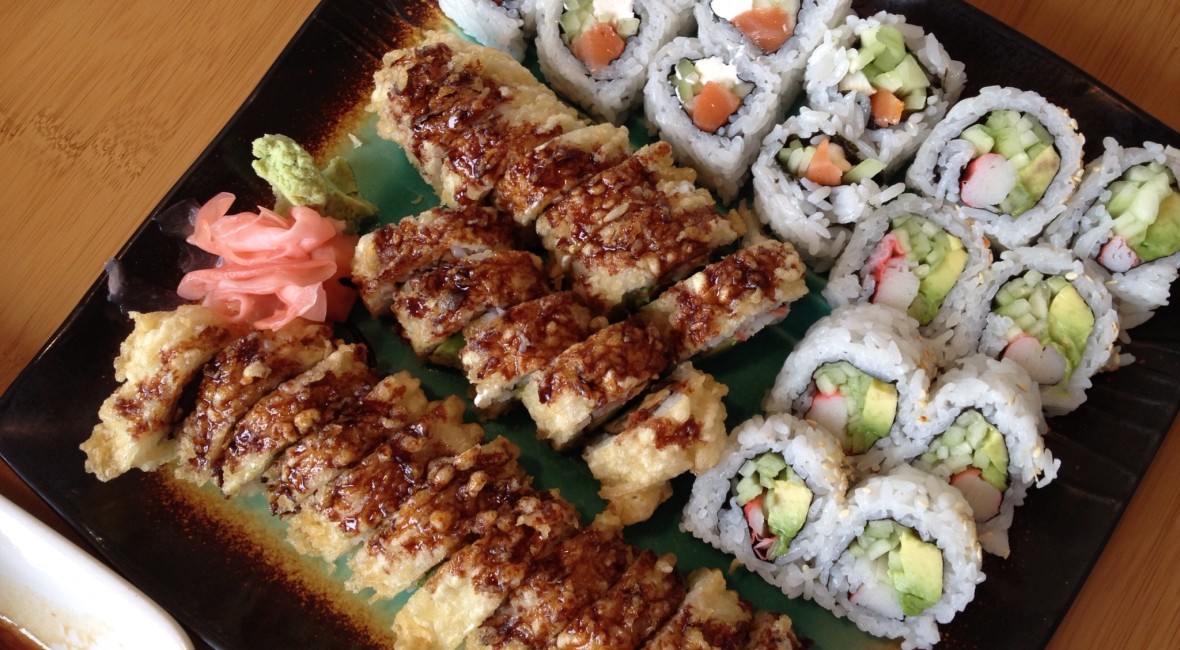 A Momiji Sushi dish. Photo by Nicole Crawford.
---
Momiji Sushi, a sushi bar originally located in Salem, opened a second location in North Albany about three years ago.  Owners Jay Tan and Wayne Chen opened the Albany location, which is just over the bridge on Highway 20, due to the great success of the Salem location, and this one seems to be doing just as well.  The Albany Momiji is open 11 a.m. to 9 p.m., seven days a week.
---
I'm going to start this review out by saying that I am by no means a food critic, nor am I an expert on sushi.  I have, however, worked in several restaurants and know what it takes to make things run smoothly and keep the customers happy and satisfied.  That being said, here is my personal opinion on my favorite restaurant, Momiji.
This review has been updated since the original publication date.
Food (4.5)
There aren't very many places that have sushi in Albany (three, to be exact), so there isn't much to compare it to.  While Momiji is comparable to Ginza, another sushi bar, the selection is much larger and tastes fresher at Momiji.  The sushi chefs definitely know what they're doing. When Momiji is put head-to-head with Love Love Teriyaki, there really isn't any competition, as Love Love's sushi isn't that great. When it comes to other dishes, Momiji once again tops the competition.  The rice is always warm and fresh, food always gets to you hot, and it tastes great.
Atmosphere (4.5) (5)
When you walk in, nine out of 10 times, there's someone right there, ready to seat you.  If that person happens to be busy, you're greeted by one of the sushi chefs.  It always makes me feel welcome when I'm greeted within a few seconds of walking in the door.  For that, I give five stars.  The music, however, is what knocked Momiji down to a 4.5.  I have heard everything from Korean Pop to the Backstreet Boys, Britney Spears, Linkin Park, and even at times Christian music playing.  While I don't mind any of this music, I'd like a bit of consistency.
Update: After this review was written, the staff saw it and decided to change the music to something more fitting. Now, you get consistent relaxing Korean or piano music. 
Service (4) (4.5)
The service here is amazing… at times.  If you go right after lunch or dinner crowds, you will find yourself having the best service.  While the servers are amazing, they just seem a bit short-handed during busy times, as you will often see them running around trying to get caught up.  Despite being a bit slow, the quality of service you get is still quite amazing.  Your glass will almost never be empty, and they stop by to check on you regularly.
Update: Since the writing of this review, they have hired more staff and you're rarely left waiting long, even during the busiest of times.
Cleanliness and Appearance (5)
Simply put, Momiji is spotless.  In all of the countless times I have chosen to dine here, I have yet to see anything on the floor.  Tables are cleaned as soon as a party leaves, and there is never any food left over on the tables. The glasses are always free of any water stains or debris, and the plates are just as clean.  The appearance is very minimalistic and modern with a lot of Asian/Japanese influence.  Everything is very neat and tidy and everything seems to be in just the right place to give it a comfortable and welcoming feel.  This type of atmosphere makes it just the place to go with anyone, whether it be friends, family, classmates, or even business partners.
Price (4.5) (5)
Compared to other places, Momiji is a bit more expensive, but you get what you pay for, which as I previously stated, is great food and nice servers. You can easily spend upwards of $20, but the quality, and usually quantity, of food you get will be well worth it. One thing that brings this rating up is $1 nigiri night.  Every Monday (Sunday for the Salem location), Momiji offers nigiri for $1 per piece.  This is a steal, as on a normal day, some can be around $5 for two.
Update: They now have lunch specials, offering a 2/$10 on select sushi rolls (including their famous Salem roll, which is normally $7.95 for one) and some dishes for less than $7. It's now an extremely affordable option for those meeting someone over lunch since they can split the $10 for the two sushi rolls.
Overall (4.5) (4.75)
I have been going to Momiji for over a year now, and I will continue going for their spectacular food, polite servers, and cleanliness.  With a four star rating on Yelp, it's obvious that others love to dine here as well. Don't take our word for it, though.  Go down and try it for yourself, and don't forget to try the Salem Roll.
Update: This review was originally written in 2013. In the three years since then, they have made their already amazing restaurant even better!