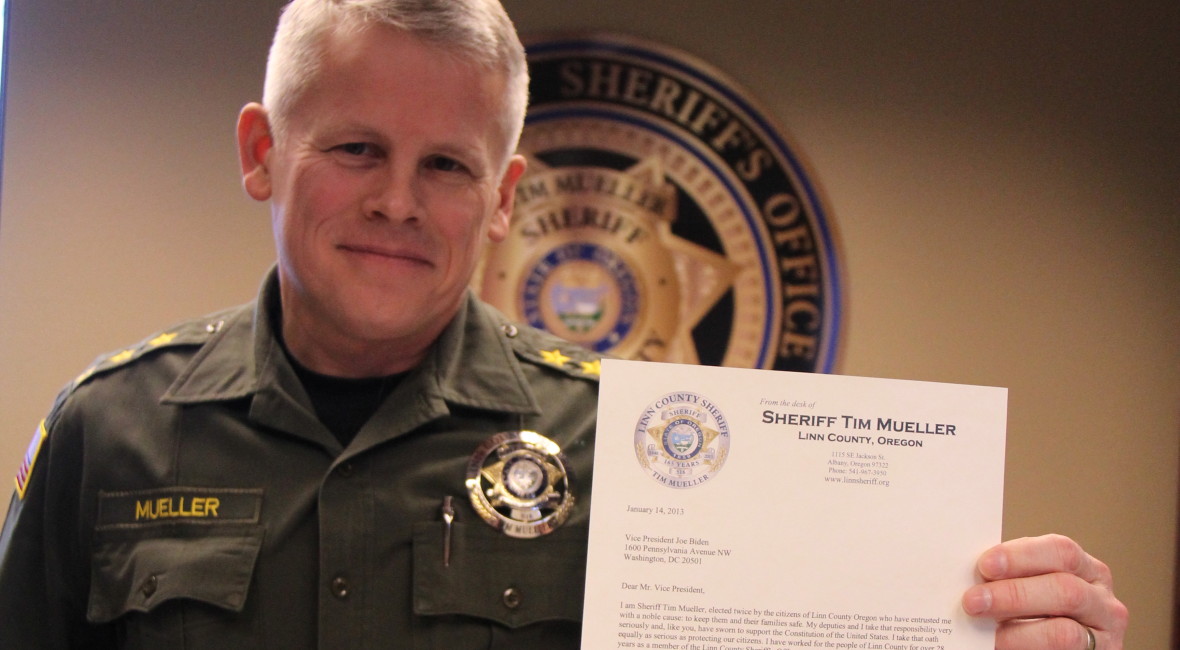 (Now Former) Linn County Sheriff Tim Mueller with his Letter to Vice President Biden. Photo by William Allison
"Is it too late to stop it?" Linn County Sheriff Mueller asked detective and computer forensics investigator Mike Smith, shortly after uploading his now nationally shared letter.
"Yeah, it's way too late. It's out," said Smith.
On Jan. 14, 2013, Mueller wrote a letter to Vice President Joe Biden telling him that he was not going to enforce President Barack Obama's executive order "offending" the American people's constitutional rights.
Mueller decided to write his letter to Biden, who was appointed by Obama to head the Gun Violence Task Force, as there would be a bigger chance of the letter getting read because Biden doesn't get as much mail as the president. However, it's not just Mueller that has voiced this opinion to both the president and vice president of America. About 380 sheriffs around the country, several of whom reside in Oregon, have decided to speak up and take a stand on this matter.
Mueller and Smith uploaded the letter onto Linn County Sheriff Office's Facebook. They had a feeling that it would be popular in Linn County, where he is receiving much praise. However, what was not expected was for the entire country, even some of the world, to agree with Mueller's words. Before he knew what was happening, calls came in from all over the country at all hours of the day from people wanting interview after interview. "It was like watching the national debt ticker," said Mueller.
Prior to the letter being uploaded, the LCSO Facebook page had 324 likes; it now stands just shy of 14,000. The letter itself has racked up nearly 60,000 shares and well over 50,000 likes from people all around the globe. Mueller's main goal was for Linn County residents to see where he and his deputies stand, and considering that many Linn County residents have now seen the letter, Mueller has reached this goal.
However, not everyone agrees with Mueller's decision to "ignore" Obama's executive order. In fact, Benton County Sheriff Diana Simpson has been quoted as saying, "It isn't up to sheriffs to choose what laws of the land they enforce." Though Simpson felt Mueller did what he thought he had to given his constituency, it wasn't something she felt the need to do herself.
While Yamhill County Sheriff Jack Crabtree did not write a letter to Biden, he did write one to his citizens, encouraging them to "exercise your right to communicate with all your county, state, and federal elected officials."
"The Oregon State Sheriff 's Association tries to get all of the sheriffs on the same sheet of music. Well, that's like herding cats," joked Mueller. "My office is not going to make honest citizens into criminals; this is a civil problem, and we're going to handle it with a civil process."
Even though not everyone agrees with Mueller's decision, each county sheriff represents their own constituency, which means that the county residents elected the sheriff of that county as their sheriff. According to the Supreme Court, if the government forces an unconstitutional regulation, the sheriffs are operating outside of the constitutional oath.
Mueller does not believe that assault rifles should be banned, which he defines as a weapon capable of selective fire; a semiautomatic or fully automatic gun. One example of an assault rifle would be the one used in the Dec. 11, 2012 Clackamas Town Center shooting, where gunman Jacob Roberts used an AR-15 to gun down three victims. What was not overly publicized by media outlets was the concealed handgun holder, Nick Meli of Portland, who had his gun's sights set on Roberts. Some believe that without Meli confronting Roberts, the massacre would have continued and more lives would have been lost.
In order to carry a concealed weapon in Oregon you have to have a concealed handgun license, which requires that you show that you've had safety training. It doesn't matter how old the safety training certificate is, just as long as you can prove that you've had safety training of some kind.
Some people feel that teachers should be allowed to carry a gun of some kind in their classes, just in case something like the situation in Newtown, Conn. were to happen again, they would be able to protect their students.
Mueller believes that it all depends if said teacher is capable of pulling the trigger. He thinks that just because a person has a gun doesn't necessarily make them the right person to have it. Opposed to it, Simpson said, "If this were to occur, I would expect teachers to receive the same use of force and tactical gun training that law enforcement has."
If teachers were allowed to carry guns in class, and something did happen, then the police don't know who the "real shooter" is.
Additionally, many people think that they will be able to take someone's life, but until it comes down to that very moment, no one knows for sure if they can or cannot. If they are unable to pull the trigger, there will then be another firearm that could potentially be used against them and the others in the environment.
There are some schools in the state, such as those in Sweet Home, Ore., that don't prevent teachers from having handguns in the classroom. Mueller doesn't disagree with that, but he thinks that there should be serious training that the teachers have to take in case something were to happen.
Mueller has said that he is 100 percent behind Obama's 23 Executive Orders; the only one that he said he has a problem with is doing background checks on private sales. He, like many others, doesn't see how they will be capable to enforce such a thing because they will not be able to track every single private sale.
Even if the private gun sales do run background checks, there is a part on the form that asks if you have any mental health problems. Simpson felt strongly about this. "[There should be] more extensive background checks and strict limitations on people with a history of mental illness," she said. Regardless, just because they run a background check doesn't mean they will be able to find every little thing that is wrong with the buyer. Mueller also feels that there is a serious issue with mental health in America and the people that need the help the most aren't capable of receiving it due to uncertain reasons.
When these people don't receive the help they need, horrible things can come from it, like the recent events at Sandy Hook Elementary School and Clackamas Town Center, as well as many other similar tragedies. "We limit the number of available chambers for shotguns and rifles for wildlife hunting, yet we do not put the same value on human life," said Simpson.
While Congress does not always, Mueller does agree that they should be the ones to decide what is necessary and why it isn't.
"The president did the right thing. He issued his executive orders and he put the other piece of it, back on Congress and that's the way it should be," said Mueller.